Trombonist Chad Kirby commissioned Retrocoagulant Vox in 1999. Chad's vast repertoire of extended trombone techniques (including didjeridu technique, circular breathing, and pedal-tone vowels) presented both a unique opportunity and a distinct challenge. Chad requested specifically that we work closely together on an ongoing basis to create a trombone part that would reflect both of our identities. My working method, then, was to develop the computer part and the trombone part in parallel in a multi-track sound editor (Digital Performer), sketching the trombone part primarily by manipulating recordings of Chad playing various textures, techniques and ideas. Then Chad and I interpreted this audio sketch, translating and refining it into playable notation.
Technical Details
I developed the initial sound elements for the computer part using Common Lisp Music (by Bill Schottstaedt) and Common Music (by Rick Taube). The percussive elements originated in multi-track recordings of jazz drumming by percussionist Greg Campbell. I created a CLM implementation of Richard Karpen's SNDWARP process and used it to manipulate these recordings, moving through them with algorithmically determined time-pointer and pitch envelopes.
Awards
Retrocoagulant Vox was a finalist in the V Concurso Internacional de Música Eletroacústica de São Paulo, Brazil, 2003
Performance Details and Materials
The work was written for bass trombone, but Stuart Dempster demonstrated it could be performed on tenor.
Duration: 11:30
Materials:
In exchange for me providing these materials for free, please contact me if you perform this piece. I would be pleased to add your performance to the list below.
Selected Performances
March, 2015 – American Trombone Workshop, Washington, D.C. — performed by Tim Connor
September, 2009 - University of Miami, Clarke Recital Hall — performed by Tim Connor
July, 2007 - Pace University, River to River "Summer Stars" series, New York City — performed by Tim Connor
May, 2007 - TIMARA Festival, Oberlin Conservatory, USA — performed by Stephen Menotti
November, 2004 - International Computer Music Conference, Miami — performed by Tim Connor
2003 - Concurso Internacional de Música Eletroacústica de São Paulo, Brazil (tape)
March, 2003 - Society for Electroacoustic Music in the United States Annual Conference — performed by Stuart Dempster)
June, 2001 – Meany Theater, Seattle - Digital Fusions — performed by Chad Kirby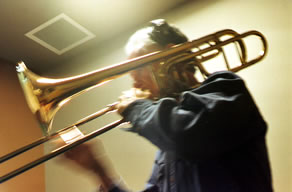 Stuart Dempster,
Retrocoagulant Vox recording session, 2004