Bret Battey (b. 1967) creates electronic, acoustic, and multimedia concert works and installations, synthesizing diverse experience in music composition, computer programming and graphic design. A major focus in his work has been the crafting of integrated sound and image compositions. He pursues research in areas related to generative techniques, digital signal processing, image and sound relationship, Indian classical music, haptics and expressive synthesis — laced with a overarching fascination with feedback processes and emergent behavior. He often frames his artistic work as a way of evoking experiential analogs to distinctive ways, philosophically, of being in the world.
He has been a Fulbright Fellow to India and a MacDowell Colony Fellow and has received recognitions and prizes from Austria's Prix Ars Electronica, France's Bourges Concours International de Musique Electroacoustique, Spain's Punto y Raya Festival, MADATAC and MuVi4, Abstracta Cinema of Rome, Amsterdam Film eXperience, the Fresh Minds Festival and the Red Stick International Animation Festival for his sound and image compositions.
Battey completed his masters and doctoral studies in Music Composition at the University of Washington and his Bachelors of Music in Electronic and Computer Music at Oberlin Conservatory. His primary composition teachers have been Richard Karpen, Diane Thome, Conrad Cummings and Gary Nelson. He also served as a Research Associate for the University of Washington's Center for Digital Arts and Experimental Media. He is a Professor of Audiovisual Composition with the MTI Institute for Sonic Creativity at De Montfort University, Leicester, UK.
We are warmed by the fire, not by the smoke of the fire. We are carried over the sea by a ship, not by the wake of the ship. So too, what we are is to be sought in the invisible depths of our own being, not in our outward reflection in our own acts. We must find our real selves not in the froth stirred up by the impact of our being upon the beings around us, but in our own soul which is the principle of all our acts.

— Thomas Merton No Man Is An Island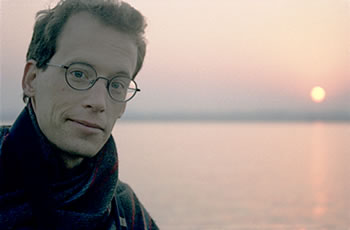 On the Ganges River, Varanasi, India — 2002